[Recent News] [Group Research Awards] [Best Paper Awards] [Real-World Impact]
[Nov 2022] Jing gave a talk as part of the Meta Ph.D. Research Fellowship Summit 2022 on "Alternate Filesystem Architectures for Micro-second Datacenter IO".
[Feb 2022] Remzi is giving the keynote on "25 Years of Storage Research and Education" at FAST'22!.
[Feb 2022] Our FAST'08 paper on "An Analysis of Data Corruption in the Storage Stack" with Lakshmi N. Bairavasundaram, Garth R. Goodson, and Bianca Schroeder was awarded a Test of Time Award at FAST'22!
[Feb 2022] Kan Wu is presenting our paper on NyxCache: Flexible and Efficient Multi-tenant Persistent Memory Caching at FAST'22.
[Feb 2022] Congratulations to Jing Liu for winning a Meta PhD Research Fellowship in Distributed Systems!
[Aug 2021] Congrats to Yuvraj for completing his PhD dissertation on "Fair and Secure Synchronization for Non-Cooperative Concurrent Systems". He is now a postdoc researcher and instructor in the CS department.
[Oct 2021] Congrats to everyone for the two papers from our group that were presented at SOSP'21: Exploiting Nil-Externality for Fast Replicated Storage and Scale and Performance in a Filesystem Semi-Microkernel!
[Feb 2021] Kan presented "The Storage Hierarchy is Not a Hierarchy: Optimizing Caching on Modern Storage Devices with Orthus" and Youmin presented "Scalable Persistent Memory File System with Kernel-Userspace Collaboration" at FAST'21.
[Nov 2020] Congrats to the Yifan, Yien, Aishwarya, and Ram for our paper on "From WiscKey to Bourbon: A Learned Index for Log-Structured Merge Trees" at OSDI'20!
[Oct 2020] Congrats to Aishwarya for completing her PhD dissertation on "Efficient and Correct Durability in Distributed Storage Systems". She is now a postdoc researcher at VMware.
[July 2020] Anthony Rebello presented his paper on Can Applications Recover from Fsync Failure? at USENIX ATC'20!
[April 2020] Yuvraj Patel presented his paper on Avoiding Scheduler Subversion using Scheduler-Cooperative Locks at EuroSys. Watch his video!
[Current] In the SOSP/OSDI Hall of Fame, Andrea and Remzi Arpaci-Dusseau are tied for 4th place for the most papers published in SOSP and OSDI (17 papers), with 6 of those paper appearing since 2014.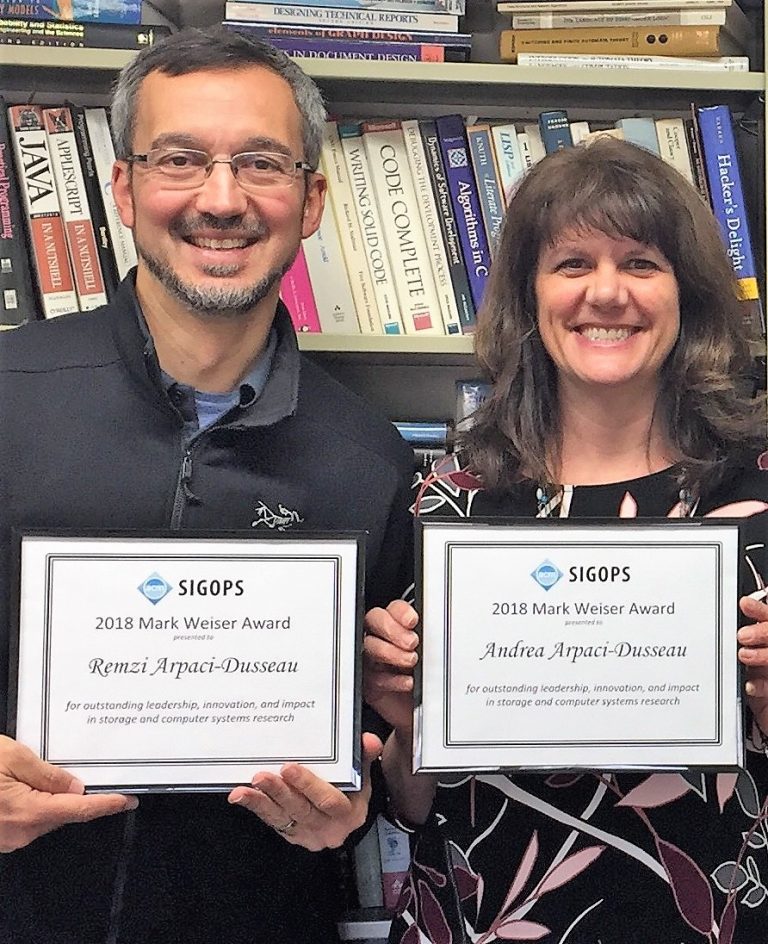 [2018] Andrea and Remzi Arpaci-Dusseau won the SigOPS Mark Weiser Award "for outstanding leadership, innovation, and impact in storage and computer systems research".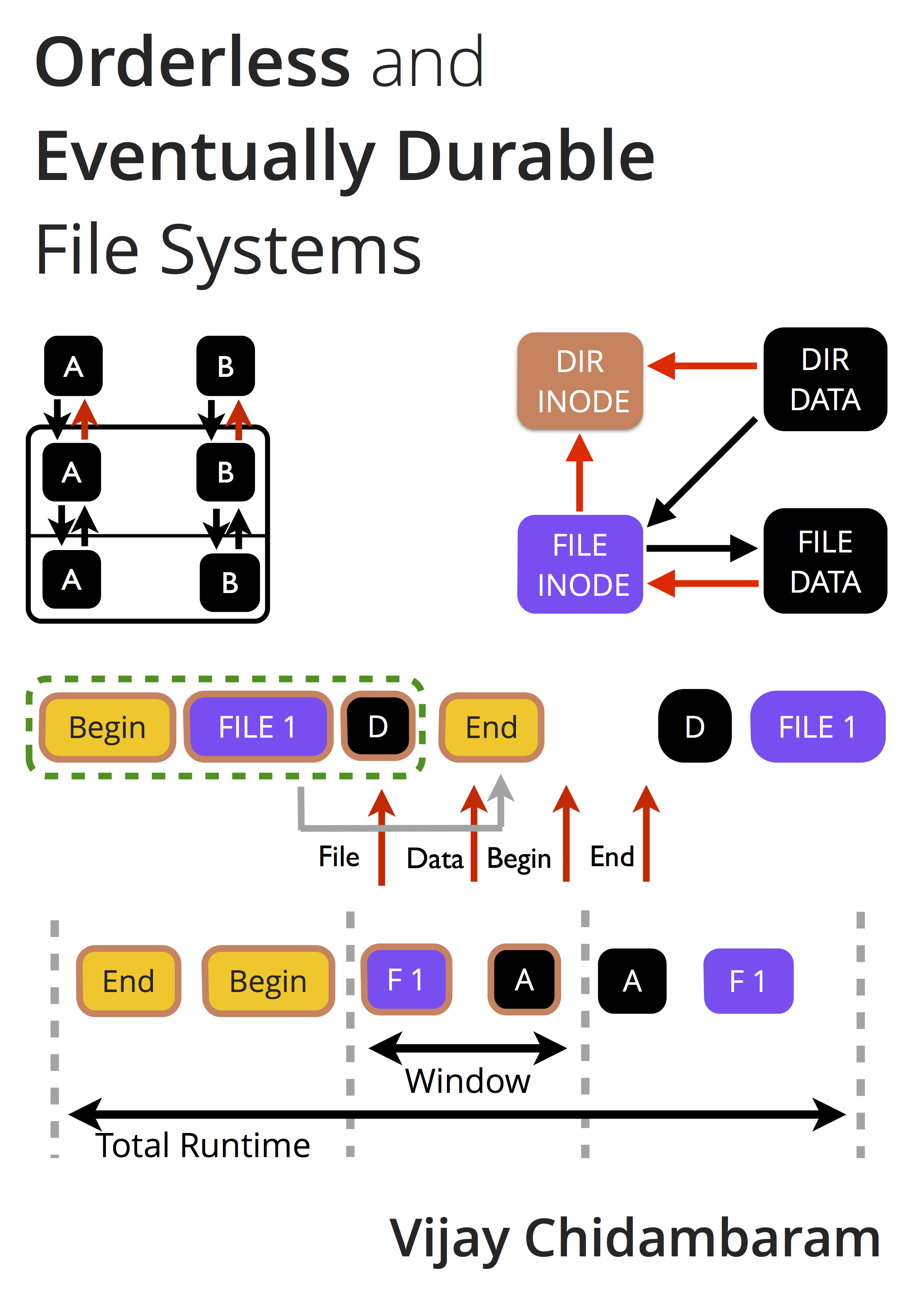 [2016] Vijay Chidambaram won the SIGOPS Dennis Ritchie Dissertation award for best dissertation in systems for Orderless and Eventually Durable File Systems.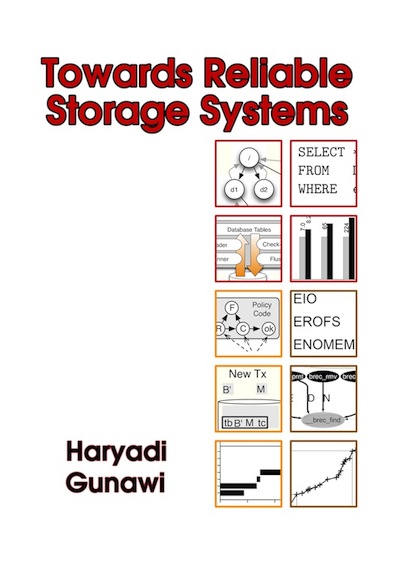 [2009] Haryadi Gunawi won the UW-Madison Department of Computer Sciences Best Thesis Award and an ACM Doctoral Dissertation Award Honorable Mention for Towards Reliable Storage Systems.



[2005] Muthian Sivathanu won the UW-Madison Department of Computer Sciences Best Thesis Award for Semantically-smart Disk Systems.
While our focus has been on driving research forward, our work has had numerous impacts upon the real world, in the form of both commercial and open-source systems.
Our techniques developed as part of the semantically-smart disks work led to a patent and have been utilized in block-level storage systems from Hitachi, IBM, Intel, and others, according to various patent filings. Intel also licenses this patent currently.
IRON File Systems demonstrated deep flaws in error handling in Linux file systems; many of those flaws have since been fixed as a result.
Our IRON work further introduced the novel concept of the transactional checksum. This approach removes the need for an extra disk flushing operation in the journaling protocol, and thus improves performances (under some workloads) substantially. As a result, the transactional checksum is now part of the Linux ext4 file system and thus in use upon millions of machines worldwide.
ILFS introduces an approach in which the file system serves as a volume manager, later adopted in commercially important systems such as ZFS.
BAD-FS introduced the idea of giving the workflow scheduler control over replication in distributed storage. This idea has since gained great utility in real-world usage via systems such as that found at Alluxio (formerly Tachyon).
Our series of papers on finding bugs in existing storage systems led to direct fixes and updates of existing Linux file systems, including widely used ones such as ext4 and XFS.
Our work on deconstructing the EMC Centera led to many performance enhancements and bug fixes in the shipping product.
Our corruption analysis in the parity lost work led at least two major storage vendors (including NetApp) to change their fault-handling mechanisms, removing the chance of (silent) data loss in certain scenarios.
Our recovery techniques within Membrane have been patented, and are currently licensed by Intel.
Coerced cache eviction is used in industry, notably by Apple when dealing with possibly misbehaving Firewire drives.
ioSnap and Anvil were directly incorporated into FusionIO's product line and widely used in high-performance enterprise settings.
The Fast File System checker has been incorporated into the FreeBSD file system checker (by Kirk McKusick) and now ships worldwide as part of the standard FreeBSD distribution.
Our ALICE work on crash-consistency testing has been adopted by others (including an open-source version), leading to many problems being found and fixed in widely used commercial and open-source databases and key-value stores, including Google's LevelDB and Oracle's library database.
Underlying ideas in WiscKey's log-structured merge tree are in use at Pure Storage, being studied for adoption by Toshiba, and form the basis of a popular open-source version written in Go.
Slacker containerization is now part of the Tintri product line.
The OpenLambda serverless computing project is one of a few open-source lambda-based systems available today, and is being investigated for adoption by numerous companies.
Our robust distributed storage analysis has led to numerous fixes and updates in popular distributed storage systems.