block_pool< T, Pool, MaxBytes > Struct Template Reference
Collaboration diagram for block_pool< T, Pool, MaxBytes >: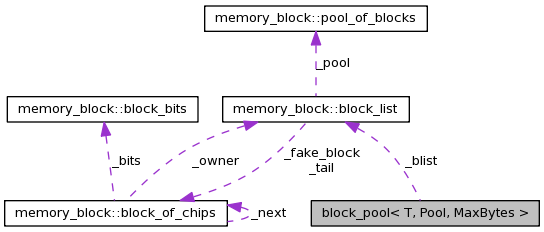 [legend]
List of all members.
---
Detailed Description
template<class T, class Pool = dynpool, size_t MaxBytes = 0>
struct block_pool< T, Pool, MaxBytes >
A factory for speedier allocation from the heap.

This allocator is intended for use in a multithreaded environment where many short-lived objects are created and released.

Allocations are not thread safe, but deallocations are. This allows each thread to allocate objects cheaply, without worrying about who will eventually deallocate them (they must still be deallocated, of course). To use: give each thread its own allocator: that provides the thread-safety.

The factory is backed by a global dynarray which manages block-level allocation; each block provides N chips to hand out to clients. The allocator maintains a cache of blocks just large enough that it can expect to recycle the oldest cached block as each active block is consumed; the cache can both grow and shrink to match demand.

PROS:
most allocations are extremely cheap -- no malloc(), no atomic ops
deallocations are also cheap -- one atomic op
completely immune to the ABA problem
memory can be redistributed among threads between bursts
CONS:
each thread must have its own allocator, which means managing thread-local storage (if compilers ever support non-POD __thread objects, this problem would go away).
though threads attempt to keep their caches reasonably-sized, they will only do so at allocation or thread destruction time, leading to potential hoarding
memory leaks (or unexpectedly long-lived objects) are extremly expensive because they keep a whole block from being freed instead of just one object. However, the remaining chips of each block are at least available for reuse.
Definition at line 202 of file block_alloc.h.
---
The documentation for this struct was generated from the following file:
---
Generated on Mon Jan 2 15:14:04 2012 for Shore Storage Manager by
1.4.7