ssm_sort::object_t Class Reference
[Sorting]
Inherits smlevel_top.

Collaboration diagram for ssm_sort::object_t: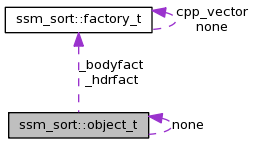 [legend]
List of all members.
---
Detailed Description
Handle on a record in the buffer pool or in scratch memory.

The ss_m::sort_file function calls a variety of user-defined callback functions to process records in the buffer pool or in-memory copies of records and to produce more of the same.

This class provides a generic handle to reference the records or copies of records, since the callbacks need only to
know the header length
find the data at an offset in the header
know the body length
find the data at an offset in the body
copy a generic handle
copy out a portion of the header or body to a buffer
create a new generic handle from a pair of buffer
An object_t created from buffers must also know how the buffers were allocated so it can free the buffers to the same heap, so it keeps a reference to the factory_t used by the callback function to create the buffers.
Definition at line 312 of file sort_s.h.
---
The documentation for this class was generated from the following file:
---
Generated on Mon Jan 2 15:14:29 2012 for Shore Storage Manager by
1.4.7