BVH Motion File Viewer
Created by :
Steven Wijaya
Andrew Jepsen


Features:
Reads Displays Nearly All BVH files
Allows motion framing with the Camera
Smooth Tracking camera for following motion
Four views available including top, side, front, and perspective.
Simultaneous viewing of each view for easier path editing
Character may be viewed as lines or elipses
VCR style controls (plus frame by frame, goto frame, and slider)
Control over amount of light in scene
Fake Motion Blur
Camera can automatically fit the whole motion

Advanced Features:
Path Editing with correct orientation
Arc length re-parameterization (on/off)
Real-Time arc-length re-parameterization
Control over control point movement speed
Saves edited paths

Buttons - Features:
Shadow was going to display our nice shadow volume shadows, but we ran out of time at about 9:30 this morning.
Arc-Length Arc length reparamatrizes a modified curve. If on while a control point is being moved it does it in real time as the control moves.
Motion Blur Displays last few frame's ghosts to give a motion blur effect.
Tracking Cam Smoothly tracks the actor during the motion.
Fit Motion Positions the camera so that the entire motion is visible.
Show Spline Displays the spline and control points for path editing.
Window Viewing Type Fills entire window with one View or splits it among all four.
Grid type Solid or lines.
Skeleton Type View the actor as lines or elipses.
VCR Controls Pause serves as stop because the FLTK Stop button sucks.
Following is the snapshot with motion blur turned on, using 4-viewable area, spline showed, square grids, ellipsoid skeleton type and arc-length turned off.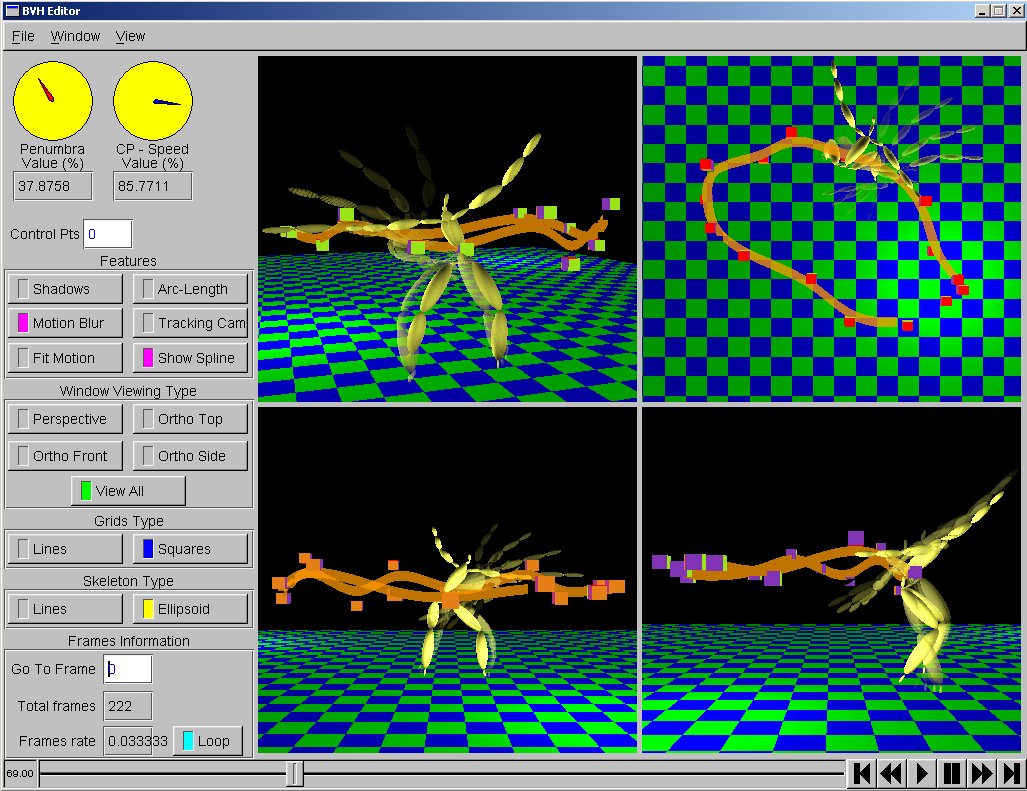 Following is the snapshot with arc-length turned on, tracking camera turned on, 4-viewable area, lines grid and ellipsoid skeleton type.